Main content starts here, tab to start navigating
Menu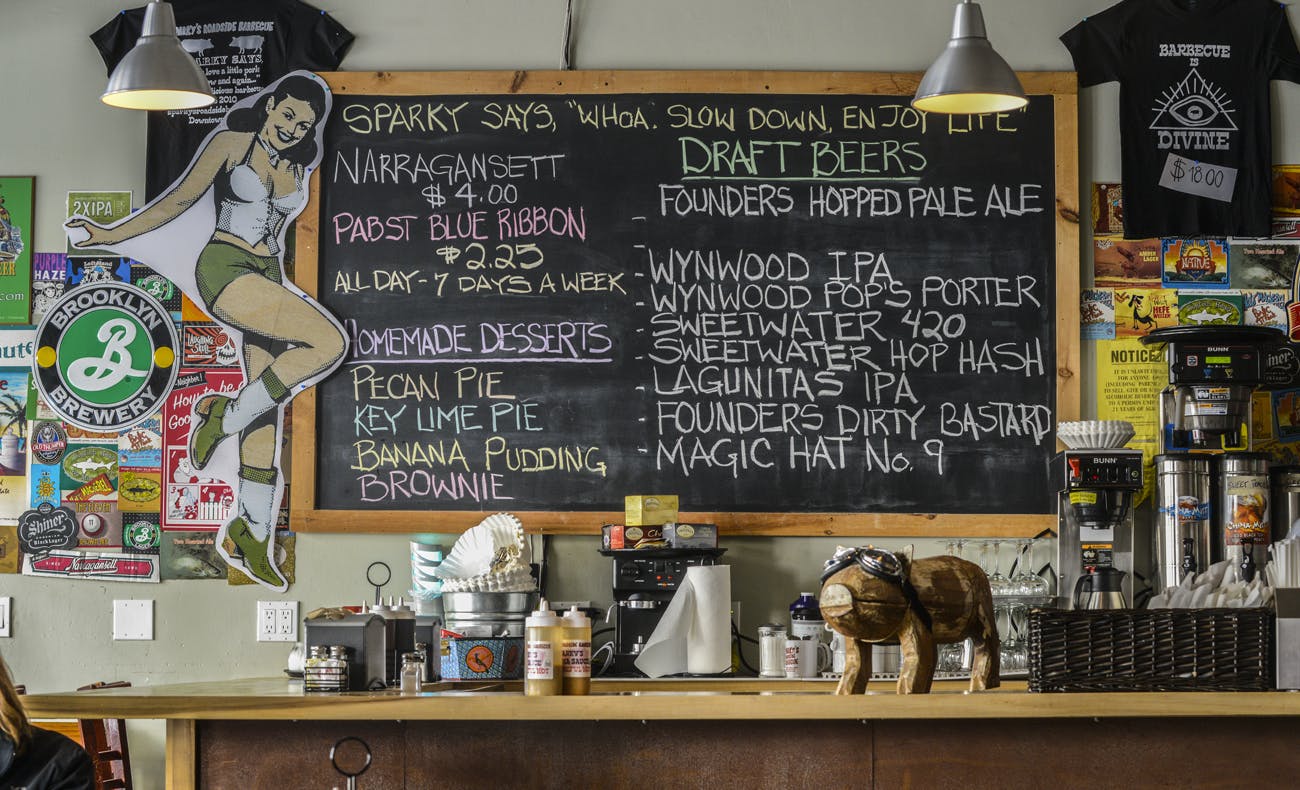 Corn Bread

Per Piece $3.50

Corn Nuggets

$6.50

Chicken Fingers

$9.50

Fried Pickles with Ranch Dressing

$6.50

Catfish Fingers

$9.50

Fried Riblets with Asian Sauce

$12

Homemade Bacon Steak

With homemade bread and butter pickles

$9.50

Chicken Wings

Smoked, Spicy Jerk or Sweet and Spicy Guava Habanero

1/2 Dozen $10.75

Dozen $15.95

Sparky's Wedge Salad

With Blue Cheese or Ranch

$7.50

Sparky's Chopped Salad

Diced Tomatoes. Cucumbers, Julienne Vegetables, Kale, Roasted Peanuts, Cashews, Pumpkin Seeds, Dried Fruit and Hoisin BBQ Sauce Vinaigrette

$9.50
Served with fries and coleslaw on a grilled Kaiser Roll Substitute sides.
Pulled Pork Sandwich

$11.50

Beef Brisket Sandwich

$13.50

Chopped Chicken

with Sautéed Onions Sandwich

$11.25

Smoked Boneless/Skinless

BBQ Chicken Thigh Sandwich

$12

Southern Fried Smoked Chicken Thigh Sandwich

$13

Grilled or Blackened Fish o' Day the Sandwich

$15.50

Fried or Blackened Catfish Sandwich

$13.75

1/2 lb Certified Angus Beef Burger

$11.50

Black Bean Chipotle Vegetarian Burger

$11

Add American or Swiss Cheese

$1

Add Homemade Bacon

$2.50
Sparky's Favorites
Sparky's Homemade Sausage Sandwich

Homemade Andouille Sausage with Sauteed Onions and Poblano Peppers

$11.25

Tyler's Pressed Sandwich

Beef Brisket, Pulled Pork, Caramelized Onions, American Cheese & our Traditional BBQ Sauce

$11.50

Tyler's Vegetarian Pressed Sandwich

Just like a meat Tyler but with a Black Bean Burger

$12

The Ex Patriot Pressed Sandwich

Homemade Mojo BBQ Ham, Sauteed Onions, Swiss Cheese, Dijon Mustard and Pickles.

$12

Sparky's Brisket Cheese Steak Sandwich

Sauteed Beef Brisket, Onions, Poblano Peppers with Cheddar & Monterey Jack Cheese.

$15

Sparky's Fried Cow

Smoked, Pulled Brisket fried with Onions and Poblano Peppers. Our version of Vaca Frita

$15
Served with choice of two sides.
St. Louis Style Ribs -Sparky's Dry Rub

Half Rack $19.50

Full Rack $29.50

Guava Habanero Wet Baby Back Ribs

Half Rack $20

Full Rack $30

Certified Angus Beef Brisket Plate

$19

Pulled Pork Plate

$16

Fried Cow

Our version of Vaca Frita

$19.50

Smoked Boneless Chicken Thighs

$14.50

Grilled Mojo Chicken Breast

$16.50
Jerk Chicken

2 Leg Quarters $15

1 Leg Quarter $10

Southern Fried Smoked Chicken

$15.50

Grilled or Blackened Fish o' the Day

$18.25

Fried or Blackened Catfish

$16.75

Grilled Steak o' the Week

Ask your server.

Chopped Salad with Smoked Chicken Thighs

$15
Combos
Served with choice of two sides | Choice of Brisket, Pork or Smoked Chicken Thighs on all combos
Two Meat Combo

$19.50

Three Meat Combo

$22.25

1/2 Rack Combo

With: Brisket, Pork, or Chicken Thighs

With Choice of 1 Meat $25.95

With Choice of 2 Meats $30.95
Macaroni & Cheese

Collard Greens

Sparky's Baked Beans

Cornbread Pudding

Coleslaw

Fries

Corn on the Cobb

Mashed Potatoes

Side Salad

Sweet Potato Mash

Blackeyed Peas

Extra Sides

$3.50

Sweet Fries as a Starter

$6.50

As a side Substituion

$2.25

Onion Gravy

$2.25

Slab o' Bacon By The Pound

take away only

$15